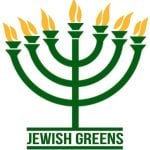 Jewish greens
We offer advice and guidance on issues of importance to Jewish members of the Green Party and the Jewish community as a whole, and intend to be the first port of call within the party for educational purposes about Jews and Judaism.
We:
- offer support to Jewish Green Party members.
- organise community events.
- hope to be a port of call for Jewish organisations outside the Green Party.
- act as an advisory group on shechita (religious slaughter) and the laws of kashrut/kashrus (dietary regulations) within the Green Party.
- raise awareness of Jewish issues, such as genetic conditions specific to Jewish people.
We provide a Jewish voice within a Green Party united against all forms of racism, including antisemitism, and in support of a welcoming, human rights-based approach to both policy and practice.
We will not, however, offer a single position on the topics of antisemitism, Israel-Palestine or Zionism, and will instead seek to provide a range of opinions.